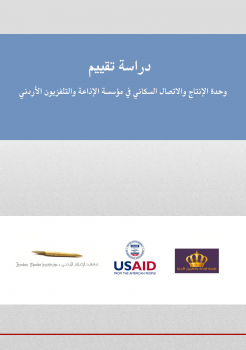 This study was conducted as part of the "Cooperation with the Jordan Communication, Advocacy, and Policy (J-CAP)" program funded by USAID. It aimed to examine population media and communications in Jordan and to describe and assess the current status of the Population Communication and Production Unit at Jordan Radio and Television (JRTV).
The assessment covered the JRTV institutional and physical structure, including an evaluation of human resources, and production content.
The study's methodology was based on the essential information collection tools (literature review, in-depth interviews and focus group discussions) as well as data analysis tools (current status, media content and job descriptions).
This research is available in Arabic language.