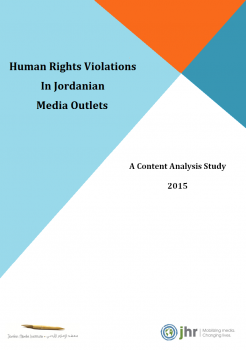 This content analysis study was undertaken as part of the "Expanding Public Dialogue on Human Rights Issues through Media" project in cooperation with the Canadian Journalists for Human Rights organization with funding from the Middle East Partnership Initiative (MEPI).
Conducted by the JMI Media Research Unit between 1 and 3 September 2015, this study offers an analysis on the results of local media coverage of human rights violations. It is the second such study by JMI; the first was conducted for eight media outlets and covered the period between 2 December 2013 and 2 January 2014. The results of the study revealed significant progress in the performance of media outlets in tracking and documenting human rights issues and violations. The results also highlighted some flaws in the coverage of human rights issues from legal, professional and ethical perspectives.
The study sought to meet the following objectives: 
Gauge local media interest in human rights violations in general and the print and electronic media in particular.
Determine the extent of each media outlet's interest in human rights violations in accordance with the ownership style and editorial policy.
Ascertain the volume and type of violations by coverage topics.
Identify the geographic location of the content covering human rights.
Determine the professional values in media coverage of human rights violations and commitment to journalistic standards, including distinguishing between news and opinion, coverage trends, identification of the perpetrator and reference to laws relevant to the violation.
Measure the media's use of data journalism in covering human rights issues.
Compare the results the first study conducted two years ago with that of the current study.