Image: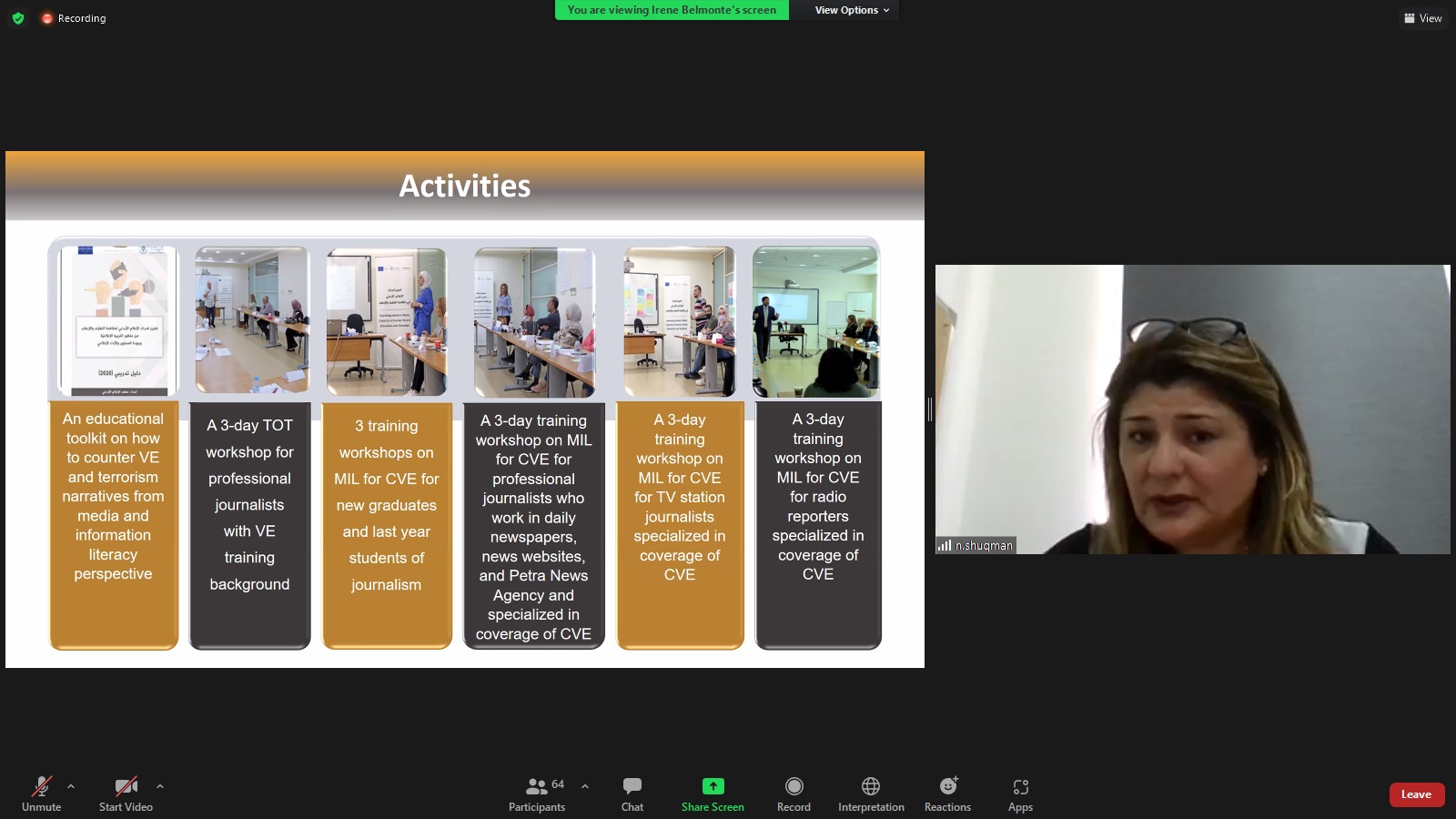 Jordan Media Institute - Amman
The Jordan Media Institute participated in the closing ceremony of the project "Improving Jordan's Media Capacity to Counter Violent Extremism and Terrorism: Media Literacy and Performance, and Content Quality Perspective," which was held online with different project partners worldwide.
The project was implemented in Jordan by JMI in cooperation with Hedayah International Center of Excellence for Countering Violent Extremism and with funding from the European Union. It aimed to improve Jordan's media capacity to counter violent extremism and terrorism, from the perspectives of Media Information Literacy (MIL) and content quality.
The closing ceremony came as an opportunity to shed light on innovative approaches to countering violent extremism, while connecting with governments and civil society organizations, as well as gathering lessons learned and recommendations from all partners.
During the ceremony, JMI presented its project activities, which include a set of educational tools on the methodology of applying MIL concepts to counter extremism and terrorist narratives. Three training sessions were also offered on MIL and combatting hate speech. The activities targeted journalists in daily newspapers, news websites, and local and community radio journalists, in addition to graduates, media spokespersons, and social media influencers.
JMI issued a code of conduct on hate speech for Jordanian media. Signed by more than 200 journalists, media representatives, government officials and academics, it was shared with the public on the institute's social media platforms and Jordanian media. The institute also launched a media campaign entitled "Naggi Kelmetak," which entailed broadcasting ten audio messages and five videos on local radio networks and on JMI's social platforms, on issues of MIL, countering hate speech, as well as ethical violations and the code of conduct.